Elisa premium shower brand launches in the UK
Elisa™, a new premium bathroom brand, has launched in the UK. First to be unveiled in the Elisa collection will be a range of heritage-style mixer showers and smart digital showers, designed for homeowners seeking a contemporary and personalised showering experience. Smart shower technology brings enhanced wellbeing to owners through its personalisation settings, while providing greater visibility of water usage to promote sustainable living.
Elisa Intuition™ and Incite™ smart digital showers
Sophisticated, stylish and intelligently-designed, Intuition and Incite smart digital showers offer an exceptional showering experience for the entire family. With the accompanying ShowerMe™ Smart App, every member of the household can create their own personal profile for a fully tailored shower routine that meets their exact needs. Users also enjoy the luxury of voice control through their existing smart home system thanks to seamless connectivity with Google Assistant or Amazon Alexa.
Elisa smart digital showers can be started remotely from anywhere over Wi-Fi, with the reassurance that the water is at the precisely desired temperature at all times. Furthermore, a bath fill option ensures the bath is filled to the perfect temperature and level every time, without the need to watch and wait. Providing simple on/off operation, a convenient wireless remote control is included, and with Intuition, a motion-controlled proximity sensor activates the shower automatically when the user steps in.
Thanks to the ShowerMe Smart App, users have the ability to select the duration of the shower, helping to save water and energy, while an easy-to-use dashboard gives the homeowner a clear picture of individual usage and can monitor the volume of water being consumed by the family each day.
Powered by Elisa's SmartValve™ technology, Elisa showers offer a wealth of options for installation in any bathroom size, shape or configuration. The SmartValve also allows the maximum temperature of the shower to be set for added safety, and the flow rate switched to 'Eco' mode to reduce water usage further (by up to 33%).
An array of different options are available across the Intuition and Incite series, with a choice of fixed drencher head, adjustable handset and bath fill features. All models are fitted as concealed shower units for a discreet and elegant finish. Incite is available in a chrome colourway, while Intuition comes in a choice of chrome, matt black or brushed brass. Each model comes with a five year guarantee, for full peace of mind.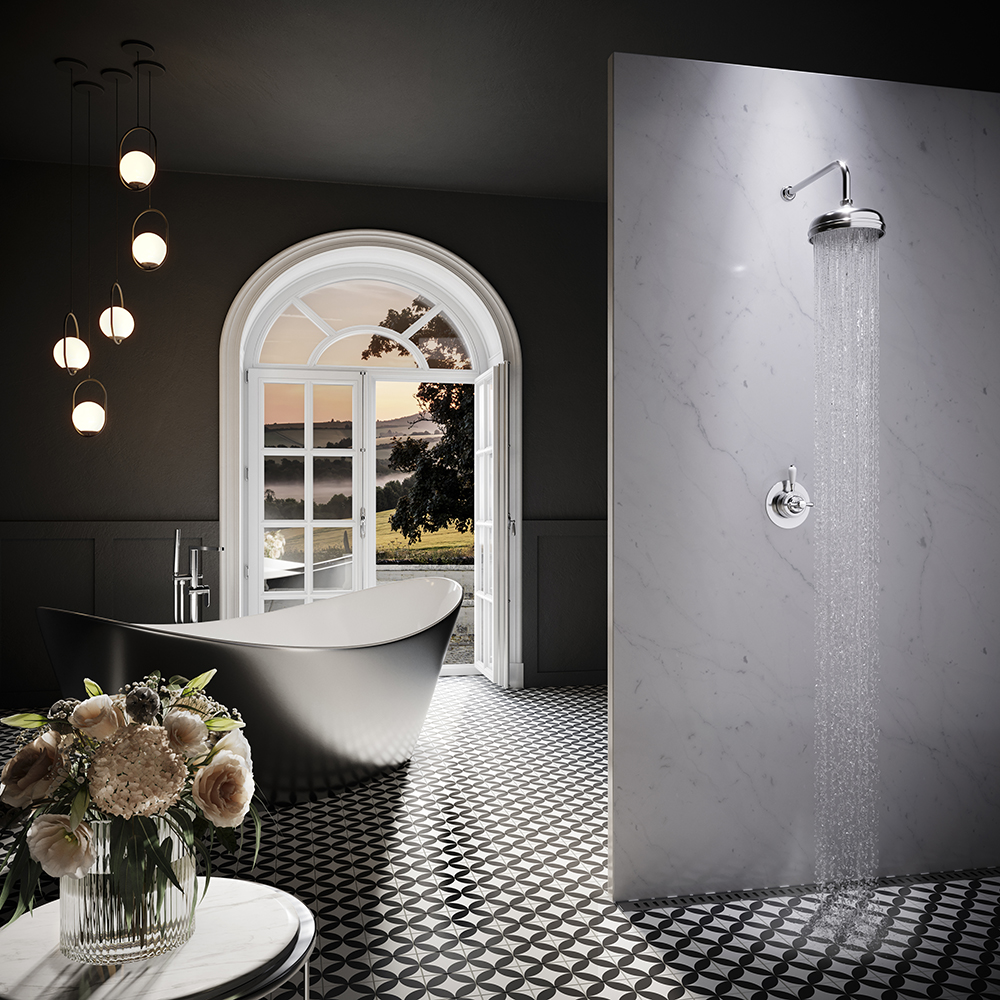 Elisa Valenteena™ heritage mixer shower collection
Launching at the same time as Intuition and Incite, the Valenteena mixer shower from Elisa adds a touch of heritage luxury to any bathroom environment. Timelessly beautiful in its styling, and built from solid brass and the highest quality components, this premium shower delivers proven reliability and ultimate durability. For further peace of mind, this stunning classic-style shower features ultra-precise thermostatic technology to control the temperature of the water, and an automatic cut-off system, ensuring safer showering for the entire family every day. Available in an exposed or concealed design in a choice of chrome or gold-plated finish, Valenteena offers true customisation with a selection of overhead and adjustable shower head options. All Valenteena showers come with a five year manufacturer's guarantee.
Tim Creedon, sales director for Elisa, commented, "Elisa has been an exciting journey for us to bring a bold vision to life. We have worked closely with our premium showroom customers and listened to installers and homeowners alike. We believe that the future of showering is not only powered by products that provide data to the user via digital technology, encouraging new routines to reduce showering times, but also products that are engineered to last. The serviceability of our showers provides homeowners with the opportunity to make a greater impact, and for the installer, the premium products they are proud to put their reputation to."
Further products in the Elisa collection will be announced over the coming months. For more information on the range, please visit: https://www.elisabathrooms.com/
Pricing and availability
Elisa Intuition, Incite and Valenteena will be available from premier bathroom showrooms from April 2022. For pricing and more information, trade partners can contact their Elisa representative or the Elisa Customer Support Team on 01959 560003.